A simple solution for your racecar or just when the OE harmonic damper fails (which is common as these engines age). We won a National title using the Fluidampr on Nik Romano's ST5 IS300, which saw a lot of hard duty over a race season.
From the manufacturer:
Fluidampr Engine Dampers are designed to control destructive vibrations which are transferred thru the crankshaft.
Each time the air/fuel mixture inside a cylinder is ignited, the combustion that occurs creates a torque spike that is applied to the crankshaft through the piston and rod. This torque spike is so severe that it not only turns the crankshaft, it actually twists the crankshaft ahead of its normal rotation, and then the crankshaft rebounds. This twisting action is known as torsional vibration. When these torque spikes and forces get into phase with the natural frequency, critical torsional harmonic vibrations occur and can be seriously destructive to the bearings and the crankshaft. Dampers are designed to control those destructive vibrations.
Critical harmonic vibrations occur numerous times in an engine's operating range. Stock rubber and elastomer-type dampers are frequency-sensitive "tuned absorbers", and work at only one critical frequency. In the case of a stock rubber damper, it is tuned for a factory engine's critical harmonic vibrations. If you change the mass of pistons, rods, or the crankshaft, you change the natural frequency of the crankshaft assembly; therefore, the stock damper is no longer tuned to the new frequency of vibration, and you may be headed for early failure of expensive engine components. Dampers also create heat while they work, and rubber is a poor dissipator of heat. This heat and the exposure to the elements deteriorates rubber, causing it to crack and change the durometer, which then leads to inertia ring slippage, damper failure, uncontrolled torsional vibration, and costly engine parts breakage.
Fluidampr is a torsional vibration damper. Its function is to provide durability by controlling destructive torsional vibration. A side benefit to vibration control is releasing lost torque and horsepower through greater efficiency.
A Fluidampr performance damper is constructed from three main components:
1. Outer housing
2. Inner inertia ring
3. Silicone fluid
The outer housing mounts to the crankshaft. When combustion triggers rapid twisting and rebounding (torsional vibration), the outer housing and inner inertia ring will move in-and-out of phase with each other. The motion of the inner inertia ring through the silicone creates shear. Shear eliminates unwanted vibration.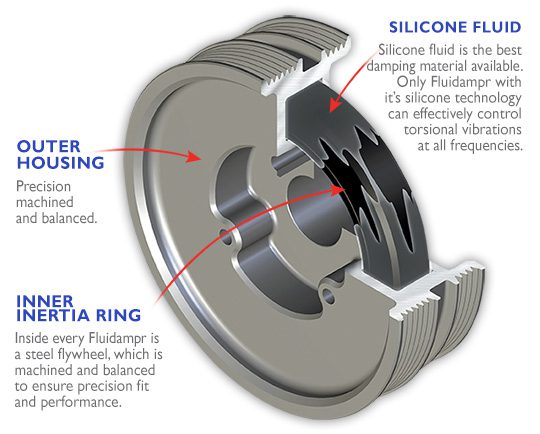 WHY SILICONE?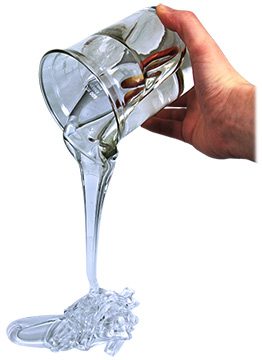 Viscous silicone maintains viscosity tolerance across a wide temperature range. Approximately -40° F to 300° F. This provides very consistent and predictable damping properties.
Excellent heat dissipation and low friction of silicone are other key silicone advantages.
QUALITY MATTERS
Not all viscous dampers are the same. They may be referred to as a fluid damper, but they are not a Fluidampr brand performance damper. Always look for the official 'The Original' Fluidampr logo when purchasing. Fluidampr performance dampers are only available through reputable performance parts retailers, jobber shops, and distributors.
Leading OEMs also trust Fluidampr, and parent company Vibratech TVD, because of our ISO 9001:2015 certified quality standards and proven experience in professional motorsports since 1985. Modern design and manufacturing advances pioneered by Fluidampr are used in Vibratech TVD viscous dampers. These include cutting-edge military vehicles, extreme weather commercial vehicles, race boats, and high-end sports cars.
FLUIDAMPR TOYOTA 1JZ 2JZ I-6 STEEL INTERNALLY BALANCED DAMPER
Brand: FLUIDAMPR
Product Code: C147
Availability: In Stock
Related Products
Tags: 2JZ, harmonic, damper, fluidampr, ati, superdamper, alternative, replacement, failure, crank, pulley, 6, rib, fdr840801, 840801, 2jzgte, gte, swap. 1JZ